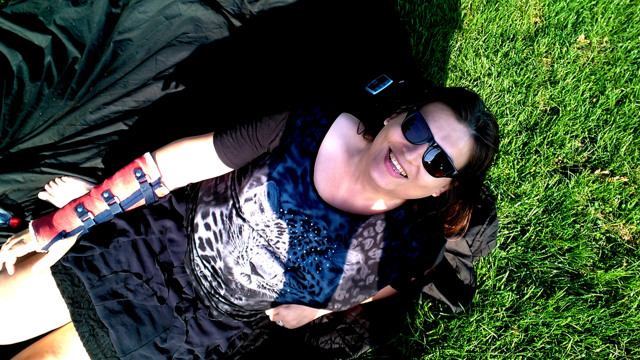 Cynthia

Fridsma


Hello world, my name is Cynthia Fridsma and I would like to welcome you on my homepage. Due to CTS (Carpal Tunnel Syndrome) in combination with an aggressive tremor, I decided to work on my novel, Hotel of the Death - the Chosen one. It's a horror/thriller combo.
Here on my homepage, you can discover more about my writing progress, read my Biography, and you may discover that I used to be a full-time freelance programmer before my Willis.
Synopis of Hotel of the Death - the chosen one
Richard McKenna is a writer with two bestsellers on his name. He's suffering a writer's block. However, he must write his book within three weeks, otherwise he cannot marry the handsome Glory Maryland.
Unfortunately, Glory's husband wants to prevent this and starts a cat and mouse game of life and death.
Richard flees to Boston to seek refuge there, but there his life is in danger too, if an assassin waits for him in his hotel room. Saved by the feds, he discovers that the people, who help him, have their own agenda.
Can he trust them, or are they just using him for their own cause? More importantly: will he survive?
---
date
news
October 2, 2014
I've now 93,214 words translated from my first novel... approx. 7,000 to go.

September 29, 2014
A new milestone: 90,268 words translated..... still approx. 10,000 words to go.

September 28, 2014
I've now reached 84,268 words.... still 16,000 to go before I'm done...



In the meanwhile I've sent the first three chapters to multiple publishers. I'll let you know when I got a reply.



TTFN



Cynthia

September 24, 2014
I'm finally working on the last chapter of my translation of my first novel, Hotel of the Death - the chosen one.



I've now translated 81,865 words. Approx. 20,000 words to go.



One of the good things about my disease is that I can work on my Novel whenever I want.



The only thing that holding me back is the pain and the trembles in my right hand. Also the feeling in my fingers in my right hand is fading away slightly day-by-day.



I'll keep you posted...



TTFN



Cynthia

July 4, 2014
Well, I've five chapters already and due to the input I rewrote chapter one. I'm now working on chapter six titled Richard.



I take it easy, since my right hand starts to hurt

Cynthia's progress, Juni 30, 2014.
I've already written a novel and I'm currently working on a sequel.



My first novel is in the hands of my editor and is in Dutch language only.



I'm working on my second novel with the title: Hotel of the death - the black widow, is a bigger challenge since I write this in Dutch and English.



My goal is to write one chapter each week in Dutch and English.



But due to CTS - Carpal Tunnel Syndrome - I have to take it easy. After 4 hours my right hand starts to hurt like hell and then I need to stop ASAP